Turkey earthquake: Digging out from quake, fears of more casualties
The Turkey earthquake yesterday claimed at least 279 lives. But in one eastern Turkish city, there are worrying signs of greater devastation.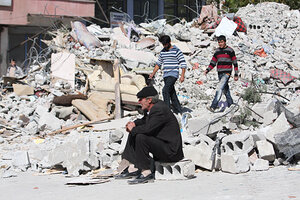 Selcan Hacaoglu/AP
"No one has even touched this yet," says Adem Yavuz Avci pointing at a two-storey building that has collapsed across the road entering his hometown of Ercis. "It was a hotel, we don't know how many people could be in there."
This city of 75,000 people has borne the brunt of the 7.2 magnitude earthquake that rocked eastern Turkey on Sunday afternoon.
The official death toll so far stands at 279 people, with another 1,300 injured. But in Ercis, where 165 are confirmed dead, there is a widespread feeling that this figure only scratches the surface.
Entering the city, dozens of buildings - apartment blocks, hotels, markets – lie in heaps of rubble. Some lean at frightening angles, and here and there walls have fallen away, laying bare the homes within.
"It will take 30 years for our city to recover from this," said Vedat Kanter, 35, a teacher left homeless after his apartment was severely damaged. "There must be 1,000 dead here alone, all we can do is pray to God."
For a country crisscrossed with active faultlines and prone to frequent earthquakes, Turkey has in the past shown itself to be woefully unprepared for handling the devastation they cause.
But some say the country has come far since its last major earthquake, which killed 18,000 people when it struck the western city of Izmit in 1999.
Learning from tough experience
"I think that after the 1999 earthquake a cornerstone was set in terms of earthquake awareness in Turkey," said Suleyman Nalbant, a geophysicist at the University of Ulster in Northern Ireland who studies Turkey's seismology.
---