Unlikely kingmaker emerges in Tunisia's election
Tunisia's election appears to be giving a strong vote to the moderate Islamist party Ennahda. But the much smaller and secular Ettakatol party may determine who forms the majority in the constituent assembly.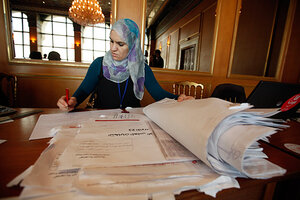 Zohra Bensemra/Reuters
As results trickle in from Tunisia's first democratic election, the broad strokes are clear: The moderate Islamist Ennahda party is likely to win far more seats than any of the other more than 80 political parties that contested the vote. Yet who forms the majority in the Constituent Assembly, a 217-seat body that will write a new constitution and name a government, may depend on a much smaller party: the secular and centrist Ettakatol, which the most recent polling predicts will win between 10 to 15 percent of the votes.
The choice for Ettakatol is between a coalition with Ennahda or the numerous parties who oppose it on the secular left. Who Ettakatol sides with could determine who wins a charged debate over the role of Islam in the state. If Ettakatol binds with secular groups, they could challenge Ennahda's hegemony – or even overtake it. But if Ettakatol sides with the Islamist party, Ennahda's dominance – and its role in crafting the identity of Tunisia's democracy – will be sealed.
On Monday in Tunis, Abou Yareb Marzouki, Ennahda's candidate in Tunis's first district, said that his party had an agreement to govern with Ettakatol and one other smaller, secular peer, the Congress for the Republic (CPR). "[These] two parties who have accepted to govern with us," he told the Monitor.
"[The coalition] was a decision made even before the elections," said Sayid Farjani, a member of Ennahda's policy committee. "It is only left to be implemented."
---