US pushes toward more biting Iran sanctions
The US House Foreign Affairs Committee yesterday targeted Iran's oil industry amid a raft of new sanctions. Israel and Britain, meanwhile, prepared for military action.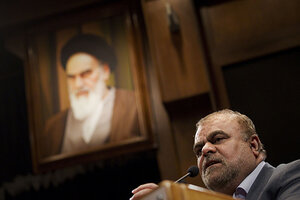 Caren Firouz/Reuters
The United States has taken a step closer to imposing a raft of further sanctions on Iran, even as increasingly shrill rhetoric, Israeli military tests, and British media coverage signal intensifying saber-rattling toward Iran.
Three weeks after US officials accused Iran of an assassination plot to be carried out on US soil, the House Foreign Affairs Committee voted yesterday to expand sanctions against Iran. The far-ranging bill includes targeting Iran's central bank if the US president determines it is facilitating terrorism, financing nuclear weapons development, or supporting Iran's Revolutionary Guard.

Any such action against Iran's central bank – which serves as a clearinghouse for nearly all oil and gas payments in Iran – could make it more difficult for Iran to sell crude oil, its chief source of cash, by blocking companies doing business with it from also working with US financial institutions. Some Iranian officials have likened such a step to an act of war.
Among many other things, the bill would also forbid American diplomats any contact with Iranian officials without advance congressional approval, and raise the bar further for exports of any US-made item – which would include civilian aircraft parts, an especially sore point for Iranians and their crash-prone domestic fleet of aging planes.
The Senate is also working on a similar sanctions measure that has bipartisan support, which would then need to be reconciled with the House bill before becoming law. Senior US lawmakers spoke of their plans to "hand the Iranian regime a nice holiday present," but critics say it will be counterproductive.
"This bill is beyond extreme," said Jamal Abdi, the policy director for the National Iranian American Council (NIAC) in Washington, in a posting on the group's website.
---