Libya militias taking law into own hands
Many of the fighters that pushed Muammar Qaddafi from power have refused to stand down. Now, some of Libya militias are allegedly stealing and targeting Qaddafi supporters for revenge.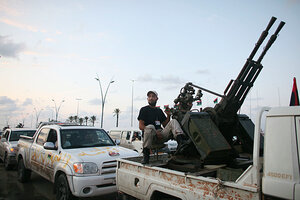 Alexandre Meneghini/AP/File
How do you ask a group of armed men if the rumors that they're a gang of ordinary thieves are true? You begin with a joke.
"Is it true that you guys stole an elephant from the Tripoli zoo, took it back to Zintan, and mounted an antiaircraft gun on its back?"
Mohamed Kor, a stern, bearded commander of the Zintan Brigade, can't help but chuckle.
"I know we have a bad reputation," he says in his office in Rigatta, a luxury beachfront compound in West Tripoli, where the fighters from Zintan have taken up residence. "We get called every day by people who say that fighters from Zintan are stealing. But it's not true. These are common criminals who abuse the name Zintan because they think it will protect them. As soon as we catch them we will expose them to the world."
And no, he adds, "the elephant really wasn't us."
Maybe not, but heavily armed militias like Mr. Kor's are very much the elephant in the room of post-Qaddafi Libya.
The new Libya is dominated by militias like the Zintan Brigade. They participated in the liberation of Tripoli in August and they never left. Now that the fighting is over, most militias won't give up their guns. Accusations of mafia-style behavior are growing, as are worries that inter-militia fighting could break out before the new Libya is even born.
Saying that the fighters from Zintan, a small town in Libya's western mountains, have a bad reputation is putting it mildly. The word "Zintani" has replaced the word "thief" in Tripoli street slang.
They are far from the only armed group around. On Sunday, Oct. 30, a firefight broke out between fighters from Zintan and Misurata; a Zintani was killed. Zintan fighters then followed an ambulance carrying a wounded Misurati, seeking to execute the man in revenge. That didn't happen, but on Monday another firefight broke out outside the hospital, wounding four.
---