Report says Iran nuclear weapons work continued til 2009
A new International Atomic Energy Agency report found that Iran's nuclear program included weapons-related work at least until 2009, much more recent than earlier believed.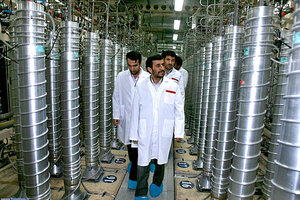 Iranian President's Office/AP/File
Iran has worked for years on activities related to nuclear weapons design, according to a new UN report released today that publicly reveals what it calls "credible" information about Iranian clandestine efforts.
The International Atomic Energy Agency (IAEA) said the bulk of the work – on a host of activities that could be weapons-related, and were part of a "structured program" – was halted abruptly in late 2003.
The IAEA said a "particular concern" was information that some modeling and other critical design work continued at least until 2009.
"The application of such studies to anything other than a nuclear explosive is unclear to the Agency," the IAEA said, in a 14-page annex to its usual report on Iran's nuclear progress. "It is therefore essential that Iran engage with the Agency and provide an explanation."
The IAEA conclusions in some ways match those of the two US National Intelligence Estimates (NIEs) on Iran in 2007 and earlier this year, which found that Iran had halted a weapons program in late 2003, and had made no decision to go for a bomb.
Iran has consistently rejected accusations that its nuclear power program masks a weapons effort, and has dismissed the intelligence which underlies the IAEA report – much of it first provided to the IAEA by the US six years ago – as "fabricated."
Ali Asghar Soltanieh, Iran's ambassador to the IAEA, said the report "is unbalanced, unprofessional and politically motivated."
IAEA conclusions
The IAEA reached a similar conclusion in a previous report, in which it registered "serious concerns" about "possible military dimensions to Iran's nuclear program."
---