Did Israel assassinate Iran's 'missile king'?
Iran hasn't accused Israel of causing the bomb blast at an ammunition depot near Tehran, and Israel hasn't taken credit. But the blast, which killed the founder of Iran's missile program, fits a pattern.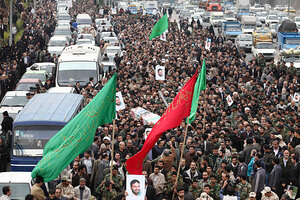 Jamejam Online/Ebrahim Norouzi/Reuters
Iran today buries a senior commander of its missile force, amid claims that the huge explosion that killed him and at least 16 others at a Revolutionary Guard base on Saturday was the work of Israeli agents.
Maj. Gen. Hassan Moghaddam was heralded by fellow commanders as the "founder" of Iran's missile program, which has deployed ballistic missiles with ranges up to 1,500 miles -- enough to reach Europe. The Islamic Revolutionary Guards Corps (IRGC) praised his role in developing artillery and missile units. His importance was such that even Iran's supreme leader Ayatollah Ali Khamanei attended the funeral.
That background would make Moghaddam a prime target in what appears to be a concerted Spy vs. Spy campaign – from assassinations and facility explosions, to three destructive computer viruses, by Iran's count – that have dealt setbacks to Iran's controversial nuclear and ballistic missile programs in recent years. Speculation that Moghaddam was the latest casualty, in the series of strikes that Iran blames on Israel and the US, has been spurred by the fact that such a critical Guard officer was present and killed, during what Iran calls an "accident" involving a routine transfer of munitions.
IN PICTURES: Iran's military might
"Iran's current missile capability is owed to commander Moghaddam's efforts," Brigadier General Abbas Khani told the official IRNA news agency. "Due to his role ... the enemy always wanted to identify and eliminate him," he said.
Iran has in the past blamed the "Zionist regime" and the US for being secretly behind what it styles a campaign of sabotage. Neither the US nor Israel have ruled out military strikes to prevent Iran acquiring a bomb. Analysts say the death of Moghaddam may be part of a broader, unconventional fight that has been on-going for years.
---