Egypt's Tahrir Square protests: A second revolution unfolding now?
Egypt's Health Ministry reports that five have been killed while scores have been injured in the past few days. Tonight's clashes in Egypt's Tahrir Square are the some of the most intense since the February revolution.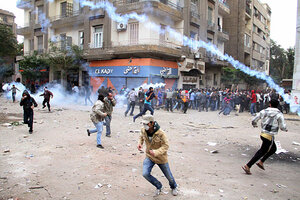 AP
Thousands of protesters who have fought police in the center of Cairo for more than 24 hours defied an army attempt to disperse them Sunday, throwing the Egyptian capital into tumult just a week ahead of scheduled elections.
The Ministry of Health says five people were killed during the past few days of clashes, although the death toll could rise as local hospitals are being inundated with badly injured protesters.
The clashes are the latest in a series of violent incidents involving not just the police, but the Egyptian military, since former President Hosni Mubarak was ousted in February.
In March, the military violently cleared Cairo's Tahrir Square and tortured some of the detained activists with electric shocks and sexual abuse at the nearby Egyptian Museum. In June, too, there were casualties as the Supreme Council for the Armed Forces (SCAF) cracked down. And on Oct. 6, about 27 mostly Coptic Christians were killed by the military in a protest outside the state Radio and Television Building, a short walk from Tahrir. (Editor's note: The original version understated the number killed on Oct. 6.)
But this weekend's fighting is some of the most intense and sustained seen since the days of the revolution that toppled Mr. Mubarak. Among activist protesters, whatever good will they had for the Army seems in tatters. And with protesters also now flooding the streets of other cities such as Alexandria and Suez, it's unclear how the military council plans to bring an end to the violence.
---