US hardens its line against Egypt military
After months of tepid statements, the US yesterday condemned the 'excessive force' used by Egyptian security forces. Meanwhile, three US students were arrested for protesting in Tahrir Square.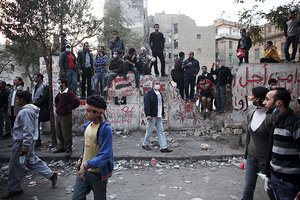 Tara Todras-Whitehill/AP
The US State Department yesterday condemned the excessive use of force by Egyptian security forces, strengthening its stance against the violence five days into the clashes that have killed at least 38 people, according to rights groups.
The shift comes after a Monday statement calling for restraint on "all sides," without specifically condemning security forces. That provoked anger from Egyptian protesters, who have faced security forces shooting tear gas, rubber bullets, birdshot, and – according to field doctors – live ammunition. The protesters, who are armed with rocks and Molotov cocktails, are demanding that Egypt's military rulers hand over power to a civilian government.
State Department spokeswoman Victoria Nuland in Washington reiterated yesterday that the US is "very concerned" about the violence, but took a harder line against the military, which receives $1.3 billion in annual US aid.
"We condemn the excessive force used by the police, and we strongly urge the Egyptian Government to exercise maximum restraint, to discipline its forces, and to protect the universal rights of all Egyptians to peacefully express themselves," she said. "While all parties in Egypt need to remain committed to nonviolence, we believe that the Egyptian government has a particular responsibility to restrain security forces and to allow the Egyptian people to peacefully express themselves."
---
Follow Stories Like This
Get the Monitor stories you care about delivered to your inbox.