The war in Iraq: soldiers assess 'peaks and valleys,' prospects of a final attack
As they prepare for the final exit from the war in Iraq, US troops aim to avoid any spectacular attack – and take stock of a conflict that gave the Middle East its worst violence in recent decades.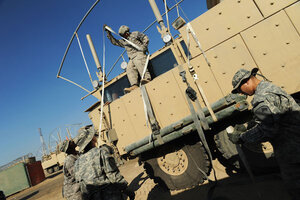 Scott Peterson/Getty Images
As he watches yet another US military column prepare to drive across Iraq's southern desert wastelands and withdraw into Kuwait, US Army Col. Scott Efflandt fears the impact of any final strike against his troops.
"What we worry about is a disproportional attack that taints the overall accomplishments," says Efflandt, speaking at this dusty staging post 30 miles south of Baghdad.
"So a spectacular rocket attack – which has happened in Iraq repeatedly in the years we've been here – if that's the last thing that happens in Iraq, you know, like a chef at a restaurant, you're only as good as your last meal," says Efflandt.
From its first "shock and awe" moments in March 2003, the American invasion of Iraq was about shaping perceptions. The bombing of Baghdad, live on TV, was meant to be so overwhelming that Saddam Hussein's regime would crumble – and along with it, the resolve of America's enemies from Al Qaeda on down.
Nearly nine years later, as American forces fully withdraw by Dec. 31, the US military is eager to do what it can to shape the legacy of a war that has witnessed the worst violence in the Middle East in recent decades, bitterly divided Americans over its cost in blood and treasure, and has now almost become a distraction or forgotten by the public at large.
---