Biden brings down curtain on US Iraq operations (VIDEO)
US military marked the end of its Iraq operations in a ceremony attended by Vice President Joe Biden and Iraqi Prime Minister Nouri al-Maliki. The remaining 13,000 US troops are due to withdraw by end of year.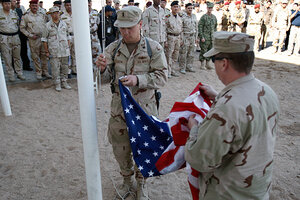 Nabil al-Jurani/AP
Top American and Iraqi leaders today marked the end of the US military presence in Iraq, after a costly war that brought down a tyrant, but also left a trail of destruction of 4,500 American lives, and many, many more Iraqis killed.
The marble rotunda of Baghdad's Al Faw Palace – one of the thrones from which Saddam Hussein ruled, until toppled by the US armed forces in April, 2003 – echoed with a military band and platitudes.
A moment of silence was observed for "martyrs" of the war.
Vice President Joseph Biden said the United States had set Iraq on a democratic path. Iraqi Prime Minister Nouri al-Maliki and President Jalal Talabani expressed gratitude for the American role, despite widespread uncertainty among Iraqis about their future – and doubts about the price they've already paid.
"We're gathered here to thank the armed forces of Iraq and America, and to honor your sacrifice, to honor your success, as well as your commitment," Mr. Biden told scores of US and Iraqi military officers at the ceremony.
---