Historic 62 percent turnout in Egypt elections
There are only three official winners so far in Egypt's elections as many districts ready for runoffs.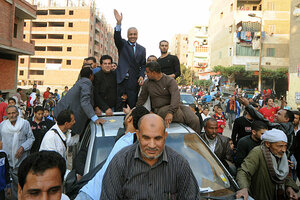 AP
Egypt's first post-Mubarak election has produced few clear winners in the initial round, with a historic 62 percent of voters turning out to choose among more than 100 candidates in some districts.
The official election results announced in Egypt today show that only three individual candidates won outright. The rest of the the individual races will be decided in runoff races next week. The eventual winners in the individual races, conducted in three geographically-staggered rounds, will make up one-third of the new lower house of parliament.
Results for the list-based proportional system that will fill the rest of the body will not be announced until all three rounds have concluded in January. But it is already clear from unofficial results that ultraconservative Muslim parties may have taken as much as 30 percent of the vote – a surprising victory – while the more well-established Muslim Brotherhood is on track to win about 40 percent of the seats.
Based on party estimates, it appears that Islamists will play a prominent role in steering Egypt's post-revolution future, including writing its new constitution – if the parliament has much of a say. Egypt's military rulers have said they will not give up control until a new president is elected in the first half of next year.
Historic turnout
The head of Egypt's High Elections Commission Abdel Moaz Ibrahim termed turnout among eligible voters in the first round, which took place in nine of Egypt's 27 governorates, "historic.".
That is the highest turnout ever recorded in Egypt, but it is lower than the more than 90 percent in Tunisia's recent elections. It is also lower than the 75 percent turnout that Iraqis managed in 2005 amid widespread violence.
---