Why Iran lashes out at West
Is Iran pursuing a systematic strategy to provoke its enemies? It's not always that simple.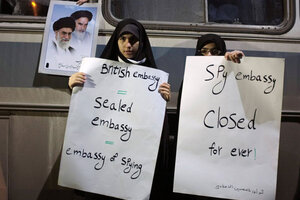 Caren Firouz/Reuters
Amid rising clamor in Israel, the United States, and Europe to stop Iran's nuclear program – possibly with military action – a brief but incendiary news item emerged in Iran.
It purported to quote from the last will of the architect of Iran's missile program, "martyr" Maj. Gen. Hassan Moghaddam, who died when a mysterious explosion hit a Revolutionary Guard base last month.
"Write on my tombstone: This is the grave of the one who wanted to annihilate Israel," the obscure Student News Agency reported on Nov. 30, in apparent contradiction of the official line that Iran's missile program is purely defensive.
The decision to publish Moghaddam's final sentiments just a day after hundreds of ideological basiji militants stormed the British embassy – tearing down the Union Jack, stealing portraits of Queen Elizabeth II, and temporarily trapping six diplomats – will be seen by some in the West as further justification for conflict, or at least far harsher sanctions.
What might appear to be part of a systematic strategy by Iran to provoke its enemies, however, may instead be the latest episode in a decades-long pattern of Iranian factions and even "freelancers" using violence and provocative acts to undermine rivals at home – even at the risk of making Iran more vulnerable to attacks from abroad.
Power struggle
---