Egypt election runoff: Tahrir Square activist vs. Islamic scholar
As Egyptians go to the polls today for runoff races, the battle in Cairo's Nasr City neighborhood offers a window into the national race for second behind the Muslim Brotherhood.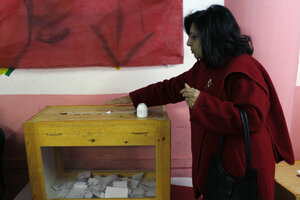 Nasser Nasser/AP
As Egyptians went to the polls again today to decide runoffs in the parliamentary elections, two candidates facing off in a Cairo district illustrate the national battle for second place behind the Muslim Brotherhood.
On one side in Cairo's Nasr City neighborhood is Mustafa El Naggar, a young revolutionary who helped organize the throngs of protesters in Tahrir Square earlier this year that brought down former President Hosni Mubarak.
On the other is Mohamed Yousri, an Islamic scholar who adheres to a strict strain of Islam known as salafism – much like what is practiced in Saudi Arabia.
Salafi candidates like Mr. Yousri took about 25 percent of the vote last week, stunning many liberal candidates who had hoped their secular parties would take the second-largest percentage of parliamentary seats after the Muslim Brotherhood's Freedom and Justice Party.
While the victory of the Brotherhood, Egypt's most organized group, was expected, the handy and unexpected success of the salafi parties has sparked alarm among some liberal and non-Muslim Egyptians, and amplified the religious tone of the elections. Some Islamist parties have been using religious language to attract voters, and some have accused liberal parties of casting themselves simply as the anti-Islamist choice, using fear instead of platforms to attract voters.
---
Follow Stories Like This
Get the Monitor stories you care about delivered to your inbox.