Iran's bid for power in postwar Iraq
As Iraqi Prime Minister Nour al-Maliki meets President Obama in Washington, Tehran is trying to broaden its influence in Iraq by installing a heavy-hitting cleric there.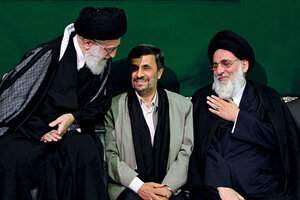 Office of the Supreme Leader/AP/File
As American forces complete their withdrawal from Iraq in coming days, concern has grown in Washington that neighboring Iran is determined to fill any "vacuum" with its own influence.
Iraqi officials have long dismissed that scenario as overblown. But an attempt by Tehran to install a top-ranking cleric in one of Iraq's holiest cities – thereby exercising far greater influence over Iraq's religious and political life – has prompted warnings of an "Iran project" to boldly increase leverage with its neighbor.
Iran has enjoyed sway in Iraq since the 2003 US invasion through large investments and charity work to help the country's majority Shiites, as well as by supporting Shiite militias to take on US forces on Iraqi soil.
But so far, Iran's ability to affect Iraq's powerful religious establishment – headed by the revered Grand Ayatollah Ali al-Sistani, in the holy city of Najaf – has been limited.
Now, in conjunction with Iraqi Prime Minister Nouri al-Maliki's Dawa Party, Tehran is trying to move one of Iran's heaviest-hitting clerics to Najaf.
---