US 'deeply concerned' after Egypt raids NGO offices
The US said it was 'deeply concerned' after a series of raids by Egypt's ruling military today on nongovernment organizations promoting democracy and human rights, some US-funded.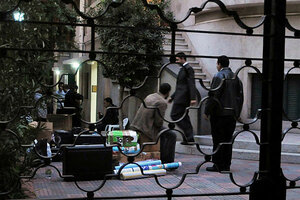 Mohammed Asad/AP
A series of armed sweeps of democracy, justice, and human rights organizations in Egypt today drew denunciations from the US and from a senior researcher for Human Rights Watch who called the actions "unprecedented."
The US Embassy in Cairo wrote on its Twitter feed that it was "deeply concerned that Egyptian judicial and police officials raided the offices of a number of NGOs today." When an Egyptian on Twitter directed a comment to the Embassy that "SCAF receives $1.3 billion in annual military aid from [the] US but yet NGOs who 'might' be receiving foreign aid [are] stormed?" the embassy responded "good point."
SCAF is the Supreme Council of the Armed Forces, the committee of senior military officers who have run the country since Hosni Mubarak was pushed from power in February by mass protests against his rule. Among the groups targeted today were Freedom House, the International Republican Institute, and the National Democratic Institute, democracy promotion organizations that received a substantial portion of their funding from the US government's National Endowment for Democracy.
---