Is Al Qaeda actually involved in the Syria uprising?
Embattled President Bashar al-Assad is blaming Al Qaeda and its affiliates for a spate of suicide bombings around Syria's capital, but analysts are skeptical.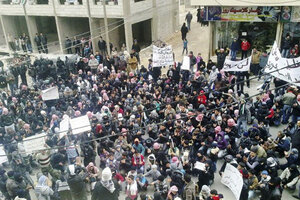 Reuters
A recent spate of suicide bombings in the Syrian capital of Damascus is fueling a debate over whether Al Qaeda and its affiliates have infiltrated the 10-month uprising against President Bashar al-Assad's regime.
The Assad regime insists that the opposition protests that have rocked the country since March are being driven by "armed terrorist groups" and "Islamic militants." It has blamed Al Qaeda for three suicide bomb attacks over the past month against security offices in Damascus, which left 70 people dead.
Analysts say there is little proof – at least for now – that suggests that Al Qaeda, or its militant affiliates, are seeking to play an active role in the Syrian uprising. But the Assad regime has an ambiguous history with Sunni militants – serving at times as suspected patron and at other times as bitter enemy – and a descent into civil war could draw Al Qaeda and like-minded groups into the fray.
"I haven't seen any evidence of Al Qaeda being responsible for any of the events that have happened in the Middle East against these embattled regimes," says Imad Salamey, associate professor of politics at the Lebanese American University in Beirut. "These leaders have an interest in exaggerating the role Al Qaeda is playing.
---