As Egypt's new parliament convenes, eyes on ultraconservative salafis
Salafis want to roll back the clock to their vision of sixth-century Islam. They captured a quarter of the votes, far more than many expected.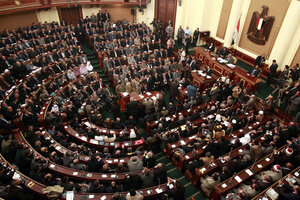 Asmaa Waguih/REUTERS
As Egypt's new parliament holds its first session today, the Muslim Brotherhood took its seat at the head of the table, with a parliamentary plurality after decades of being hounded by the Egyptian security state.
But what's really interesting – or alarming, depending on your perspective – is the faction playing second fiddle: Nearly one quarter of the new representatives will come from the ultraconservative salafi movement that follows a strict interpretation of Islam like what is practiced in Saudi Arabia.
The official results from nearly two months of staggered voting, released Saturday, show that an alliance of salafis led by the Nour Party won about 25 percent of the seats. The alliance led by the Muslim Brotherhood's Freedom and Justice Party took about 47 percent, meaning that Islamist parties will make up about 70 percent of the first parliament since the fall of former President Hosni Mubarak.
While the strong showing of the Freedom and Justice Party was expected, few had predicted that parties following a stricter interpretation of Islam would capture so many votes. Now the spotlight will be on the Nour Party as Egyptians wait to see how it will handle its new power.
Will it push to implement Islamic law, banning alcohol sales and regulating women's dress, as some fear? (both are actions that could harm tourism, a major industry for Egypt.) Or will it focus on issues like improving Egypt's poor social services and propping up the faltering economy? The party has pledged to do both, depending on who was listening. While often playing up the rhetoric of social conservatism to its supporters, party officials are careful to present a moderate agenda to a Western audience.
---