Syria uprising: Religion overshadowing the democratic push
The fighting in Syria risks being defined less as a popular uprising against a secular democracy and more as an armed sectarian conflict.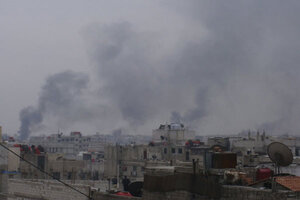 Reuters
The sectarian fault line in Syria is growing more apparent as the conflict steadily intensifies between the Alawite-dominated regime of Syrian President Bashar al-Assad and the mainly Sunni rebel Free Syrian Army.
The regime's reliance on Alawite militiamen, known as the Shabiha, to help suppress the 10-month uprising is mirrored by elements of the armed rebel forces rallying around their Sunni identity through religious and sectarian motifs and language. The minority Alawite sect draws upon some Shiite traditions and is considered heretical by conservative Sunnis.
With the Assad regime showing no sign of caving to domestic and international pressure, the confrontation risks becoming defined less as a popular uprising against a secular autocracy and more as an armed sectarian conflict pitting Sunnis against Alawites and their Shiite allies: Iran and Lebanon's Hezbollah.
"I think there's more and more evidence of that and it's almost unavoidable given how things have developed around the entire region," says Rami Khouri, director of the Issam Fares Institute of Public Policy and International Affairs at the American University of Beirut. "Iran, Hezbollah, and the Syrian regime have been rolled into one" as an enemy of the mainly Sunni Syrian opposition.
Syria's neighbors: How 5 border nations are reacting to Assad's crackdown
---