Egypt soccer riot: Have police lost control? (+video)
At least 79 were killed in the Egypt soccer riot yesterday, the deadliest violence since Mubarak's ouster a year ago. Some blame the military regime for stirring up trouble to justify extended its rule.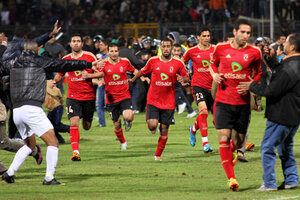 Ahmed Hassan/AP
Egypt declared a three-day mourning period and its parliament held an emergency session after clashes between fans of rival soccer teams killed at least 79 people Wednesday night.
The violence was the deadliest incident since the uprising that ousted former President Hosni Mubarak, and heightened criticism of the poor performance of the police force, which has often appeared either unable or unwilling to perform its duties in securing Egyptians' safety since the 30-year leader was forced out.
Many Egyptians, while fiercely angry at police, are also holding the military council ultimately responsible for the failure of police and the lack of security in the country.
"Those in charge are responsible for this," says soccer fan Tamer as he helped block traffic into Tahrir Square this morning in protest.
Even though Tamer is a supporter of the Zamalek club, an archrival of the Ahly club whose fans were attacked yesterday, he came out in a show of solidarity against the security forces. "The police stood by and did nothing as people were killed," he says. "And the military hasn't provided a safe and secure environment. This is a national tragedy and those in charge bear the blame."
Policeman: No one respects us anymore
---