Egypt soccer violence highlights instability under military rule
Hundreds were injured and at least one reportedly killed in Cairo today in clashes with police. Protesters were upset that police did little to thwart Wednesday's soccer violence.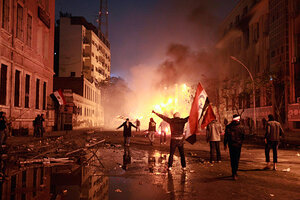 Asmaa Waguih/Reuters
A protest by soccer fans angry over the deaths of more than 70 people after a match devolved into clashes with police last night, turning streets of downtown Cairo once again into an urban battle zone. Hundreds were wounded and at least one person was reportedly killed in the capital after riot police stopped soccer fans and protesters attempting to march to the Ministry of Interior, which oversees the police force.
The outpouring of anger was sparked by fighting between soccer fans after a match Wednesday in Port Said, when police did little to prevent or stop the violence that killed a shocking number of people.
But it's not just about soccer – protesters say the deaths were just the tipping point after a year in which Egyptians have been repeatedly attacked and brutalized by security forces they say do more to protect the military rulers than the people, while the dreams of the revolution have been repeatedly stalled.
"We're here because of everything, because of the people who died on Mohammed Mahmoud Street, on Qasr al-Aini Street, and all the people they [the security forces] have killed in the past year," says Islam Said, a student at Cairo University and a fan of the Ahly club, whose fans were attacked yesterday. "We're tired, we want real security, we want real change."
In Cairo, after several hours in which protesters taunted the police, punctuated by stone throwing and attempts at breaking down police barriers, police shot tear gas at the crowds. Clashes began and lasted through the night. Protesters reported that police were using birdshot as well as tear gas. A health ministry official said two people were killed by gunfire in Suez, where protests also took place.
Side effect of military rule?
---