President Hadi takes power as Yemen's first new leader in three decades
President Hadi took oath of office in Yemen Saturday, calling for 'democratic dialogue' and vowing to fight Al Qaeda militants. A deadly car bomb attack in the south underscored ongoing instability.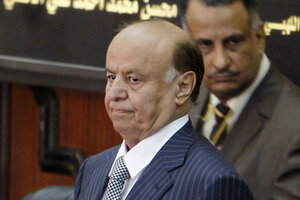 Khaled Abdullah/Reuters
Yemenis officially swore in Abd Rabbu Mansour Hadi as president on Saturday, making Yemen the fourth nation to remove its leader since the Arab spring began one year ago.
Mr. Hadi took the oath of office in a session before the Yemeni parliament and delivered a brief address in which he called on his country to come together and address the nation's problems through "democratic dialogue." He said he would continue to fight Al Qaeda militants, who have gained ground amid the instability over the past year. "It is a patriotic and religious duty to continue the battle against Al Qaeda," he stated.
Hours before Hadi took office, Yemen's now former president, Ali Abdullah Saleh, quietly returned to the country. Despite concerns that his arrival could spark renewed tensions, thus far it has triggered only a muted reaction. Mr. Saleh was not present when Hadi took the oath of office, but he is expected to attend a larger inauguration ceremony scheduled for Monday.
The question on many Yemenis' minds now is whether Hadi will be able to address longstanding problems that were exacerbated by the past year's instability: the ailing economy, a secessionist movement in the south, and a rebellion in the north. A car bomb that exploded Saturday near a presidential palace in the southern city of Hadramout, killing at least 26 people, underscored the instability that will test the new leader.
"Now the problems are the same as before," says Majid Ahmad, a pharmacist in Sanaa whose shop is just off Change Square. He estimates his business has dropped by 80 to 90 percent since protests started and a tent city formed in front of his store.
Goodwill from public
Last Tuesday, nearly two-thirds of Yemen's eligible voters went to the polls to confirm Hadi as president in an uncontested election. The high turnout has been a cause for optimism that Yemenis will support Hadi as the nation prepares to draft a new constitution and have a referendum to pave the way for competitive elections in two years.
---