Iran nuclear talks: Why the trust gap is so great
Part of the reason for Iran's distrust lies in the CIA's infiltration of a UN weapons inspection team in Iraq in the 1990s.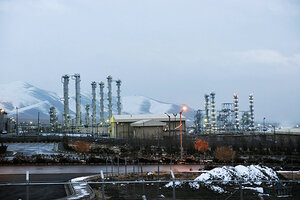 Hamid Foroutan/ISNA/AP/File
Any "success" in new nuclear talks between Iran and world powers will depend on bridging a trust gap that has widened since the last round of talks failed 15 months ago.
In that time, Iran has advanced its uranium enrichment expertise and material stockpiles, and not resolved questions about possible past nuclear weapons-related efforts.
Though Iran's supreme religious leader Ayatollah Ali Khamenei declares that having nuclear weapons is a "sin," and vows that the Islamic Republic will never pursue them, the US and some other nations demand incontrovertible proof.
But Iran also has reasons for mistrust, as it sits down in Istanbul on April 14 with the so-called P5+1 (the US, Russia, China, Britain, France, and Germany), represented by European Union foreign policy chief Catherine Ashton.
The Islamic Republic has been targeted by an escalating covert war, widely attributed to the United States and Israel and their proxies. That war has included the assassination of Iranian nuclear scientists, the Stuxnet computer virus, American CIA spy drone flights deep into Iranian airspace, and a host of unexplained explosions and acts of espionage.
---