Iran nuclear talks: Are sanctions on the table?
A senior Iranian figure stated that Iran's 'minimum expectation' for the upcoming negotiations was a lifting of some sanctions, but sanctions are notoriously hard to remove.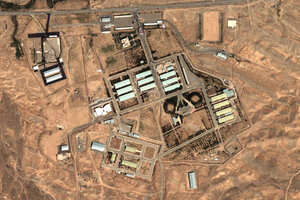 DigitalGlobe-Institute for Science and International Security/AP/File
When Iran agreed to serious engagement with world powers over its controversial nuclear program last month, it put special store in the agreed upon process: a "step-by-step approach and reciprocity."
For the Iranians, that meant draconian sanctions imposed by the US, European Union, and the UN would be eased with each concession from Tehran. But as the next round of talks looms on May 23 in Baghdad, questions are being raised about whether the US can – or even intends to – ease sanctions no matter what steps Iran agrees to take.
One senior Iranian figure last week stated that Iran's "minimum expectation" in Baghdad talks is lifting sanctions.
Yet in the US the power to adjust American sanctions resides not with President Barack Obama but with Congress, which has voiced a hawkish stance on Iran in a US election year. Iran is also under four sets of sanctions imposed by the UN Security Council (UNSC), and starting July 1 will be subject to a European oil embargo, which may be the most negotiable set of trade restrictions. Historically, the lifting of sanctions against various regimes has been a slow, conservative process.
---