US resumes arms sales to Bahrain. Activists feel abandoned
In major setbacks for Bahrain's opposition, the US has decided to resume arms sales to the kingdom and Gulf Arab leaders are meeting to discuss greater regional integration.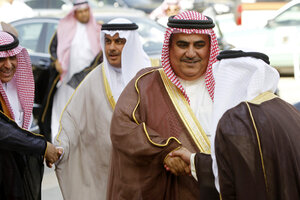 Fahad Shaeed/REUTERS
A decision by the Obama administration to resume a large arms deal to Bahrain has incensed opposition activists in the tiny Gulf kingdom who see the deal as a signal that the US supports Bahrain's repression of opposition protests.
In another blow to the opposition, Gulf Arab leaders are meeting in Saudi Arabia today to discuss greater integration of their Gulf Cooperation Council (GCC), a move that could solidify the security cooperation between Bahrain and Saudi Arabia. Last year, Saudi Arabia sent 1,500 Gulf troops into Bahrain to help quell the uprising that began in February 2011.
The US froze the $53 million deal to sell military equipment to Bahrain in September, months after security forces there violently suppressed protests calling for reform in a crackdown that has killed more than 50 people. The move to resume the sale – minus some equipment that could be used against protesters – is read by the opposition as the US ending any pressure for reform.
"It's a direct message [from the US] that we support the authorities and we don't support democracy in Bahrain, we don't support protesters in Bahrain," says Mohammed Al Maskati, a Bahraini rights activist, of the arms sale. He said opposition activists called for a week of protests against the US after the announcement on May 11. "Now protesters are starting to be more angry against the USA and this is not good for the USA," he says by phone from Bahrain.
Activists are also protesting the proposed GCC union today.
Bahrain, a tiny island in the Persian Gulf connected by a causeway to Saudi Arabia, is home to the US Navy's Fifth Fleet, considered a vital bulwark against Iran. The US response to Bahrain's repression has been muted compared to other regional uprisings.
---