Egypt presidential elections: Fruit of Tahrir Square tastes bitter to some
Many Egyptians feel they can't vote for either candidate in the presidential election run-off.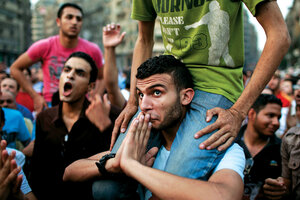 Suhaib Salem/Reuters
A year ago, Ahmed Shafiq was laying low. Military rulers had sacked him from his post as prime minister when massive crowds in Tahrir Square, energized by their overthrow of President Hosni Mubarak, demanded that those associated with the Mubarak regime must also go.
Today, Mr. Shafiq is in a runoff race to be president of Egypt.
Supporters see Shafiq as someone who can restore stability after a chaotic 18 months.
But his rise is worrying to many Egyptians, who fear a return to Mubarak-style governance if he wins. The other option, Mohamed Morsi of the Muslim Brotherhood, represents for some a return to a one-party grip on power. Many Egyptians feel they can't vote for either man.
"This is not what we came and died in Tahrir Square for," says protester Ramy Mahmoud, who returned to the iconic square to express his frustration at initial presidential election results.
"When we came here before, we said we wanted freedom and justice. We wanted a new constitution and to get rid of the old regime," he says. "But we are not on the right path."
When a popular uprising toppled Mr. Mubarak last year, the oppressive system he built didn't fall with him – the abusive security apparatus, manipulative state media, and deep inequality remain intact. When military generals took power after his fall, they didn't touch the institutional infrastructure.
---