The Lebanese sheikh who's leading a sit-in against Hezbollah
Sheikh Ahmad al-Assir has shot to fame by rallying to the cause of Syria's rebels and taking on the most powerful faction in Lebanon.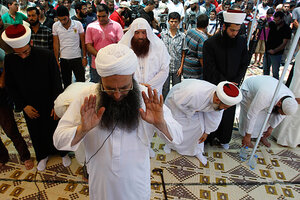 Ali Hashisho/Reuters
A Lebanese Salafist cleric who has emerged over the past year from obscurity to become a leading and controversial Sunni activist has launched a sit-in in this port city to press for the disarming of the powerful Shiite Hezbollah organization.
A year ago, Sheikh Ahmad al-Assir was known only to a small group of followers who attended his sermons at the Bilal bin Rabeh mosque in Sidon. But with neighboring Syria mired in ever worsening violence, the sheikh's calls for support for the Syrian rebels and his outspoken criticism of Hezbollah have earned him a national platform and drawn admirers among frustrated Lebanese Sunnis who feel overshadowed by their powerful Shiite rival.
"The imbalance in Lebanon, all the economic problems in Lebanon, all the political problems are a result of the weapons of the Resistance [Hezbollah]," he told the Monitor in an interview. "But every time we raise the subject of the non-state weapons, they accuse us of being [pro-Israel] traitors."
The fate of Hezbollah's weapons is at the center of the political divide in Lebanon, evenly splitting the country between those who support the Shiite group's private arsenal to defend Lebanon against future Israeli aggression and those that distrust Hezbollah's motives and argue that only the state and the Lebanese army has the right to bear arms to defend the nation.
Sheikh Assir and most Lebanese Sunnis belong to the second camp, arguing that Hezbollah uses its weapons not to challenge Israel but to threaten other Lebanese and gain political leverage.
---