Libya's liberals claim they lead in historic election
Officials from two other parties back up the claim, but the election commission refused to comment as Saturday's votes are still being counted.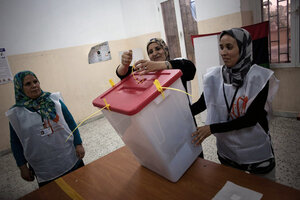 Manu Brabo/AP
A liberal alliance led by a former Libyan rebel prime minister said Sunday the party's unofficial preliminary results showed it was in the lead in the country's first parliamentary election since the ouster of dictator Muammar Qaddafi.
Faisal Krekshi, secretary general of the Alliance of National Forces led by Mahmoud Jibril, said he was basing his results on reports by party representatives at ballot counting centers across the vast desert nation. He gave no details and the head of the election commission refused to confirm Krekshi's announcement.
"We are all waiting and we have nothing to suggest that one party is ahead of others," election commission chief Nouri al-Abar told reporters. He also refused to set a date for announcing the full official results.
Libyans voted Saturday for the 200-seat legislature. Eighty seats are set aside for party lists and the remaining 120 are for individual independent candidates.
Officials from two other parties, including the Muslim Brotherhood's Justice and Construction Party, said Mr. Jibril's alliance was the biggest winner in the race for the 80 party seats. They also said they were basing their statements on party representatives at polling centers. They did not provide a breakdown.
Their claims could not be verified.
---