Libya's Goldilocks election: 'Neither Islamist, nor liberal'
A coalition of parties that has eschewed labels and instead called for pragmatism won nearly half the party seats in Libya's new congress, according to results from the July 7 election.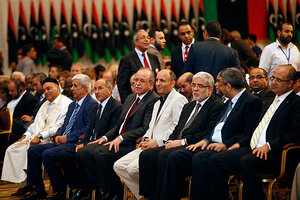 Ismail Zitouny/Reuters
Today Libyans were digesting headlines that confirm what many suspected: electoral victory for a coalition of parties that has dodged labels while calling for national unity.
The National Forces Alliance coalition (NFA), led by former interim Prime Minister Mahmoud Jibril, won nearly half of the seats reserved for parties in Libya's new congress, according to results from July 7 elections that were released last night.
While media have trumpeted a liberal victory that bucks an Arab Spring trend of Islamist successes, some Libyans see things differently.
"Jibril's in the middle," says Ali al-Arabi, tending his cigarette shop in Tripoli's bus station. "And that's what I want: someone who's neither Islamist nor liberal."
Shunning both the liberal tag and its opposite in Libya, political Islam, Mr. Jibril has called for partnering with rivals – including a runner-up Islamist party – to form a government.
It is unclear how parties will respond, while independent candidates that hold 120 of the congress's 200 seats are still an unknown quantity.
For Mr. Arabi, cooperation is the best way to remake Libya following decades under the autocratic rule of Muammar Qaddafi, toppled by revolt last year.
"We have so many things that need to be set right," he says, sliding a pack of Marlboros across the counter to a customer. "Like weapons – they should go to the government."
The uprising that brought down Mr. Qaddafi's regime also empowered numerous militias who have continued to challenge the interim authorities.
Many people want a new government to ramp up efforts to fold militias into national armed forces. Shoddy public services and high unemployment are also major concerns.
That sentiment favored Jibril, who stressed pragmatism over politicking. The NFA took 39 of 80 seats reserved for parties.
But while the largest voter bloc supported Jibril's message, the second-largest supported that of the Justice and Construction party, which took 17 seats.
Its leader, Mohamed Sowane, wants modern infrastructure and a "civil state" in which law does not contradict sharia, he says, stressing Islam as a key element of rebuilding Libya.
---