Turks turn to Twitter as Erdogan muzzles traditional media
With journalistic freedom diminishing in Turkey, Twitter has emerged as a powerful work-around for independent reporters.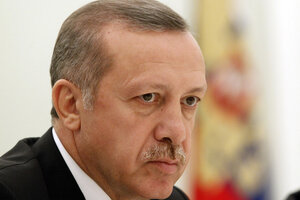 Sergei Karpukhin/AP
When Turkish journalist Serdar Akinan awoke last December to find his Twitter feed abuzz with rumors of a "massacre" in the country's southeast, he naturally switched on the television. When he flicked through the channels and found nothing but the usual grind of daily news, he called his friends at the TV stations.
"They said it was true; they had pictures," Akinan recalls. "But their editors wouldn't air them because they were waiting for an explanation from the government."
In the end, it was more than 12 hours before mainstream media reported the news that Turkey's military had killed 34 of its own civilians in a botched airstrike near the Kurdish village of Uludere on the Iraqi border. By the time the first reports aired – cautiously sticking to government statements – Akinan, a newspaper columnist, had flown to Uludere, and was tweeting images of the funerals to his 80,000 followers.
"It was viral, people started to retweet my pictures," says Akinan. "The conventional media was helpless, they couldn't hide the photos any more."
With Turkey mulling further curbs on already limited press freedom, Akinan's story illustrates how Twitter is emerging as a powerful tool to bypass – and discredit – the country's muzzled news outlets.
"We have a real news alternative with social media," says Ozgur Uckan, a professor of economics at the communications faculty of Istanbul's Bilgi University. "Twitter particularly is having a big impact on freedom of information."
---