Palestinian comments on Holocaust underscore internal divides
A Palestinian official prompted a heated debate when he visited Auschwitz last month. Many Palestinians believe that recognition of the Holocaust detracts from their own suffering.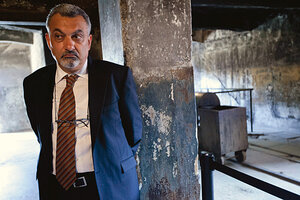 Jarek Praszkiewicz/AP
A rare gesture of empathy for victims of the Holocaust has underscored how divided Palestinians are over recognizing what Jews consider the darkest chapter in their history – and also how far apart Israelis and Palestinians remain, not only when it comes to the present conflict, but also the past.
Ziyad Bandak, Palestinian Authority President Mahmoud Abbas's adviser on Christian affairs, visited the Auschwitz concentration camp in Poland last month, laying a wreath in memory of the more than 1 million people, most of them Jews, who were killed there during the Holocaust. Mr. Bandak, who was invited by a Polish group working for tolerance, was flayed in public statements by the Islamic militant group Hamas movement for harming the Palestinian cause and marketing a ''false Zionist alleged tragedy.''
But Bandak is being backed up by moderate Palestinian leaders in the West Bank for what they say is a ''human" act.
In the past, there was a sense among Palestinians that recognition of the Holocaust would detract from their own cause and suffering – an opinion accentuated by the feeling that their own struggles, including displacement by Israel's establishment in 1948 and the ongoing military occupation, have gone unrecognized by Israel and the international community.
With his adviser's visit to Auschwitz, Mr. Abbas has come full circle on the issue. In 1984, he published a book based on his doctoral thesis alleging that the Holocaust was exaggerated and that Zionists created ''the myth'' that 6 million Jews were murdered. But when he became Palestinian Authority prime minister in 2003, Abbas wrote that the Holocaust was an unforgivable crime against the Jewish nation and humanity. He said that he wrote the book when the Palestinians were at war with Israel and would not have made such remarks today.
---