In Turkish border city, Erdogan's backing of Syrian rebels draws ire
In the city of Antakya on the Turkish-Syrian border, Turkish government support for the Syrian opposition has unnerved locals belonging to the same Shiite sect as President Assad.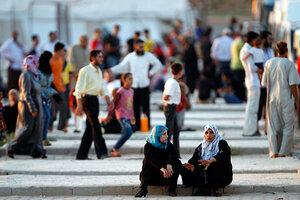 Umit Bektas/Reuters
Syrian refugee Abdulhefiz Abdulrahman remembers when he had many local friends in the Turkish city of Antakya, but those days seem over.
The political dissident fled Syria, arriving in this border city several months before the uprising against President Bashar al-Assad's regime erupted last year.
"I had a lot of Alawite friends here," says Mr. Abdulrahman, referring to the offshoot of Shiite Islam to which a large part of Antakya's population adheres.
Alawites dominate the regime in Syria, where the 18-month uprising has split the country along sectarian lines, pitting the privileged Alawite minority against the Sunni majority.
In Antakya, where support for the Alawite Assad regime runs deep, hostility is growing toward Syrian rebels and dissidents who have made a temporary base there. And throughout the province, Turkey's apparent backing of the Syrian opposition is upsetting a delicate ethnic balance.
"Before, when I told them I was a refugee, they respected me," Abdulrahman told the Monitor. "They won't even say hello to me in the street anymore."
Now, local frustration about the government's apparent decision to let Syrian dissidents and fighters operate on Turkish soil could ignite wider ethnic tensions in the country.
Turkey's rebel support draws ire
Prime Minister Recep Tayyip Erdogan's government has strongly backed the Syrian opposition, calling for the regime's overthrow.
"Even though Turkey's a secular country, it's increasingly being seen as a Sunni actor [in the Syrian conflict], along with Saudi Arabia and Qatar," says Bulent Aliriza, director of the Turkey Program at the Centre for Strategic and International Studies in Washington. "Inevitably that affects the body politic."
---