NAM summit: Iran attempts to prove Western efforts to isolate it have failed
Though Iran pulled out all the stops this week as host of the Non-Aligned Movement summit, it was met with some heavy international criticism.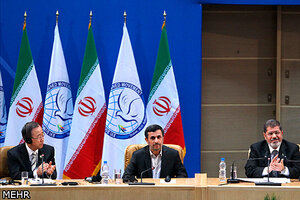 Majid Asgaripour/Mehr News Agency/Reuters
The news anchor on Iran's state-run PressTV did not mince his words: The summit of the Non-Aligned Movement (NAM) wrapping up today in Tehran was the "most important" political event in the 33-year history of the Islamic Republic.
Iran certainly mounted an extravagant show for the high-ranking delegations from 120 nations as it sought to demonstrate it was engaged with the world, not isolated from it.
But what did Iran gain with its attempt to counter US-led efforts to isolate it? And what did it lose, as two of its most steadfast policies – support for the embattled Syrian regime, and nuclear defiance – came under attack from key speakers?
"They got, on the one hand, what they wanted – to get a high profile and show they are not diplomatically isolated," says a senior Farsi-speaking European diplomat posted in Tehran until recently. "But they had to pay a political cost for that."
That cost came from Egypt's new President Mohamed Morsi, who gave a ringing endorsement of the anti-government rebellion in Syria – Iran's closest regional ally – in his speech as he transferred the NAM chairmanship from Egypt to Iran.
Mr. Morsi said Syria's 18-month uprising needed to be supported and was an extension of the Arab Spring revolt that toppled his predecessor in Egypt, the pro-Western Hosni Mubarak. When it happened in Cairo, Iran praised a regional "Islamic Awakening."
---