Losing ground to Islamists, Tunisia's liberal parties get in the charity game
Islamist parties have long provided social services and charity to gain public support. Now Tunisia's struggling liberal parties are taking a cue from them for political survival.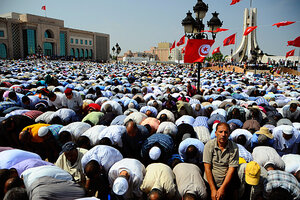 Hassene Dridi/AP
Evening descended on the farm, and the recital finished. The dancers and their parents went out to the garden for cake. Away from the refreshments table, men from the village interrogated a recital organizer named Jabrane Jlidi.
"What's your party?" demanded one. "Who funds you?" said another. Then a tall youth named Mongi leaned in and said softly, "I want to give you a message: Democracy is not the standard to judge by."
At issue was a dance and public speaking workshop for rural children that Mr. Jlidi's charity group, Kolna Tounes, organized. But for both him and men like Mongi – one a secularist democrat, the other a strict Islamist – the stakes are far larger.
Kolna Tounes – "We are all Tunisia" – is among many liberal civil society groups trying to counter Islamist activism that has flourished since the ouster last year of former President Zine El Abidine Ben Ali. Opening in a new front in Tunisia's culture wars, liberals are increasingly taking their campaigns beyond politics to the realm of charity and social work – turf long dominated in Arab countries by religiously-inspired groups whose efforts have earned them public trust.
Politics by other means
While some Tunisians give organizations such as Kolna Tounes a warm welcome, others say their liberal values are out of step with Tunisian society.
Kolna Tounes was founded in January by former members of Afek Tounes, one of many liberal political parties clobbered in elections last October by the moderate Islamists of the Ennahda (resistance) party.
Mr. Ben Ali's fall has also allowed more hardline currents to emerge, including the ultra-conservative and sometimes violent Salafi movement and the Hizb-ut-Tahrir party. Both want a strictly Islamic state.
For Jlidi, a doctor in Tunis, those developments spurred to conduct politics by other means.
---