IAEA steps up pressure on Iran with condemnation of its nuclear defiance
Russia and China – reversing earlier stances – joined today in the IAEA's near-unanimous vote expressing 'serious concern' over Iran's nuclear program.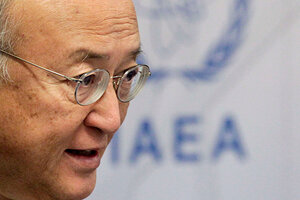 Herwig Prammer/Reuters
The board of the UN nuclear watchdog in Vienna voted nearly unanimously today to condemn Iran over its nuclear program, with the US and Western allies bringing Russia and China on board.
The 35-member governing board of the International Atomic Energy Agency (IAEA) expressed "serious concern that Iran continues to defy" UN Security Council sanctions that require a halt to enrichment, and the resolution of outstanding questions about possible nuclear weapons-related work.
The participation of Russia and China – which have shielded Iran from sanctions in the past – adds further pressure on Iran, but may have been more aimed at showing Israel that there is big-power unity behind a diplomatic, not military, solution to curb Iran's nuclear progress.
Still, compromise language meant to bring Russia and China along meant the text also supported the "inalienable right" of all signatories of the Nuclear Nonproliferation Treaty to develop nuclear energy for peaceful purposes – a key inclusion for Iran.
---