Most Jordanians say no to more Syrian refugees
With the number of Syrian refugees in Jordan topping 100,000, 65 percent of Jordanians oppose allowing any more to enter the country, insisting their cash-strapped country is at capacity.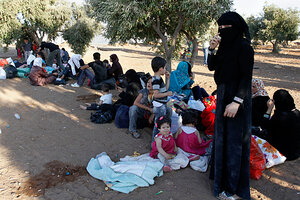 Raad Adayleh/AP
As Syria's civil war drags on in bloody stalemate, Jordan has maintained an open door policy for its refugees, allowing in tens of thousands of people. But with no end to the conflict in sight, the friendly relationship between Jordan and its "guests" is showing signs of strain.
The first refugees were welcomed into cities and towns across Jordan, and the local papers ran glowing articles describing how Jordanians were pulling together to aid those fleeing the conflict. But as the numbers of Syrians in the country have grown, Jordan has taken steps to control the influx. In July, it began sending new arrivals to a tent camp near the city of Mafraq.
A string of recent incidents have highlighted the growing tension between communities: there was a scuffle between refugees and locals in the border town of Ramtha, a disturbance at a United Nations help desk in nearby Irbid, and riots in the tent camp near Mafraq that have left numerous Jordanian security personnel injured. And recently, a survey conducted by Jordan's leading research center found large majorities of Jordanians in favor of closing the borders to Syrians altogether.
Sixty-five percent of Jordanians oppose allowing more Syrians into the country, and more than 80 percent said the Syrians who were here should be confined to camps, according to a nationwide poll by the Center for Strategic Studies at Jordan University.
"They are not [in favor of] kicking out [those] who are here," says Walid Alkhatib, head of the center's polling unit. "But they are saying: this is enough for us. This is our capacity, that's it."
---