With Turkey-Syria escalation, worries grow about a tip into war
With Turkey and the Syrian regime on opposite sides of the antigovernment uprising in Syria, flare-ups like the Turkish grounding of a Syrian jet this week carry great risk of tipping the two into open conflict.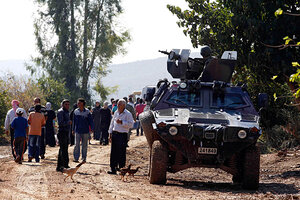 Osman Orsal/Reuters
Tension has steadily risen for months along Turkey's long shared border with Syria, spiking with the Syrian shoot-down of a Turkish jet fighter this summer and again last week as Turkey responded to Syrian artillery shells landing on its side of the border. Turkey says it doesn't want war, but it is far from clear where the tit-for-tat with Syria will stop.
The incident is the latest development in what has become a proxy war between President Bashar al-Assad's regime and allies Russia, Iran, and Hezbollah, and its opponents, who are backed by Turkey, the US, the European Union, and rich Persian Gulf states.
Turkey hosts the Syrian opposition and has facilitated supplies to the rebel Free Syrian Army, which is fighting to topple Mr. Assad in a 20-month uprising that has turned into a global tug-of-war.
---