As sanctions crush rial's value, Iranians point fingers at Ahmadinejad
Western leaders may finally be seeing the result of stringent sanctions as Iranians blame their government, not the US and EU, for the precipitous economic decline of the oil-rich country.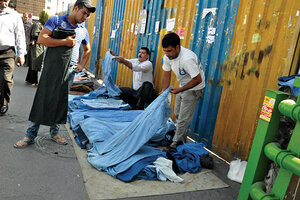 Afshin Valinejad
Tehran and Kashan, Iran; and Istanbul, Turkey
Parinaz could see the growing impact of Iran's deepening economic chaos every day while riding the Tehran subway. To make ends meet, more and more Iranians had gone underground to sell cheap Chinese goods to passengers.
But it was one particular sight that illustrated for Parinaz the depths to which US-led sanctions and Iran's economic mismanagement have brought financial hardship: A young woman who once had the money to pay for a nose job – the plastic surgery was obvious – was selling trinkets in a subway station, and being told by a policeman it was illegal to do so.
"What should I do? I need to live, right?" she shouted loudly at the policeman, heard by all the daily commuters in the station. "Should I sell myself then? If I can't make money this way, I would have nothing but my body...."
The embarrassed officer let the woman continue selling, but her words shook Parinaz, who requested that only her first name be used.
"The peddler looked like a respectable woman," the pharmaceutical researcher recalls. "I was sure that if she had any other way of earning money, she would not have chosen this. It was obviously an effort for survival."
A host of US and European sanctions targeting Iran's oil exports and its banking system over its disputed nuclear program have put a chokehold on the economy. The value of the national currency, the rial, plummeted 40 percent in early October, and inflation stands officially at nearly 24 percent. Experts say the real figure could be double that or more.
"I heard a proverb from my grandfather that 'the high pressure of rising prices is going to break our backbone,' " says Heydar, a retired civil servant. "Honestly speaking, I never felt it and never could sense it, but these days I easily witness that the backbone of many people like me in the middle class is breaking. I can hear the horrifying sound of people squeezed by the economy."
---