In rebel-held Aleppo, Syrian civilians try to impose law through courts, not guns
The United Legal Council of Aleppo, formed by lawyers and judges, hears about 15 cases daily, and has buy-in from some rebels. But it faces a tough challenge from those who want to impose their own justice in the war-torn city.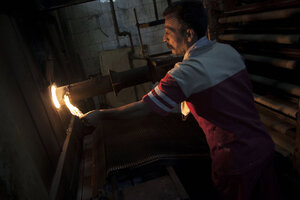 Manu Brabo/AP
Mahad Youssef walks into this bare, new office, sinks into a chair, and holds her head in her hands. Her two adult daughters stand beside her, arms crossed and looking worried, as Mrs. Youssef tearfully petitions the man in the pressed suit sitting behind a desk.
"I swear on the Quran, my son did nothing," she says. "My son is a good man. If he confessed anything, it's because they are torturing him."
This, the newest court in Aleppo, is her last hope to get her son back. And perhaps the slump in her shoulders is an indication of her confidence in its abilities.
Ms. Youssef's son was recently arrested by a brigade of the Free Syrian Army, who accused him of being a member of the shabiha, or a thug working for the Assad regime. They were detaining him, and, she is afraid, torturing him. The judge, who sits behind his desk, waves to a court investigator, who enters the room and informs the woman that he visited the brigade that captured her son, and they promised to turn him over to the court tomorrow. Youssef begins to cry.
"I swear on the Quran, I swear on the Quran, my son is innocent!" she cries.
This newly established United Legal Council of Aleppo is an attempt to bring law and order back to war-torn Aleppo, where rebels and the Syrian regime have fought over the city for three months now. In rebel-held territory, the citizens who haven't fled the fighting find themselves with no courts to perform marriages or try thieves, and at the mercy of the armed rebel groups fighting the regime.
But this group of lawyers and judges is finding it difficult to exert civilian accountability over the rebel groups, whose guns are the law.
"In times of war, justice suffers first," says Abu Ibrahim, the judge who heard Youssef's petition. A judge in a government appeals court before the uprising, he asked not to use his real name because his family lives in an area under the control of the Syrian regime.
---