Inside Syria, rebels offer cautious support for unified council
Fighters on the front lines of the Syrian war expressed optimism about the new council formed out of Syrian opposition groups.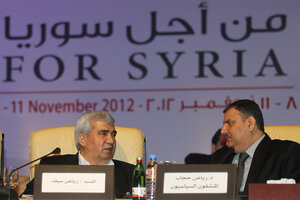 Mohammed Dabbous/Reuters
A day after Syrian opposition groups agreed on a new unified opposition council following a week-long meeting in Qatar, those inside Syria say they are pleased with the development but will place little weight on it until the new leadership produces results. Many Syrians have long felt let down by the international community and their own leaders abroad for failing to provide enough support.
"For right now we don't know what it will do, but we are supporting it and hope it will live up to its promises to bring down the regime and provide a transitional government," says Bader Abu Ahmad, a Syrian activist and a member of the People's Party.
For months Syrian opposition factions have suffered from divisions and in-fighting even as they work together to topple the government of Syrian President Bashar al-Assad. Previously the Syrian National Council, the main opposition group until now, had caused much frustration among Syrians who accused the group of being out of touch with the ground realities of the conflict and spending large sums of money without attaining significant results.
The new leadership council, called the Syrian National Coalition for Opposition and Revolutionary Forces incorporates leaders who have been in Syria recently and those who have long been in exile. There is some hope that the new coalition can tip the scales by serving as a vital conduit for much needed international assistance.
Leaders relatively unknown
---