What's the status of Egypt's Christians?
The newly chosen Coptic pope finds his people in a perilous situation.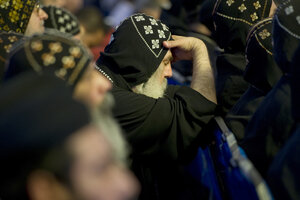 Ann Hermes/The Christian Science Monitor
WITH THE SELECTION OF A NEW POPE on Nov. 4, Egypt's Coptic Orthodox Church again has a spiritual leader as the country goes through a turbulent transition that has been particularly difficult for Christians. Tawadros II, the 118th pope, must fill the shoes of a beloved former leader (he died in March) at a time when sectarian attacks have increased, many are fearful of the rise of Islamist politicians, and the church's political role is being debated.
How Christians fare in Egypt could resonate with an embattled population throughout the region.
Q: Who are Egypt's Copts?
Though the word 'Copt' historically meant Egyptian, it is now used to refer to Egyptian Christians.
Christianity is believed to have come to Egypt in the 1st century with the apostle Mark, whom Copts consider the first pope of Alexandria. The Coptic language, which was spoken in Egypt before Arab con-querors introduced Arabic, is still used in the church's liturgy.
The majority of Egypt's Christians belong to the Coptic Orthodox Church, though some belong to other churches and denominations. Christians in Egypt are estimated to make up less than 10 percent of the population, though their exact numbers are the source of much controversy.
The Coptic Orthodox church became a distinct church after the Council of Chalcedon in AD 451, when it split from the larger church over a dispute about the nature of Christ Jesus' divinity.
Q: What role does the church play in Egypt's politics?
Egypt's last pope, who led the church for 40 years, played a political as well as spiritual role. He supported Egypt's former President Hosni Mubarak in what was seen as an attempt to secure the regime's protection of Christians. Under his leadership, many Christians retreated from public and political life, relying on the church to lobby for them and protect them. He died in March.
Christians have long faced discrimination in Egypt, including in regard to laws on building houses of worship. Many sectarian attacks revolve around churches being built or renovated.
---