Iran's summer earthquake leaves 100,000 shivering in tents as winter descends
The Iranian government has failed to rebuild a remote province devastated by an August earthquake, leaving more than 100,000 Iranians in tents as winter arrives.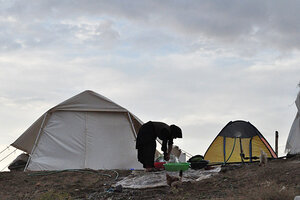 Afshin Valinejad
As winter settles in on this remote province of Iran, a pair of earthquakes that devastated the area in mid-August will likely claim new lives.
The Aug. 11 quakes devastated the mud and mud-brick houses typical of this area. Of the 306 villages hit by the earthquakes, 65 were totally flattened, officials say.
Three months later, government promises to rebuild before winter have not been met, leaving more than 100,000 Iranians in tents waiting for fierce winter weather. The area is known for hard winters with strong winds and rains and flooding that turn earth to mud.
Allahverdi Dehqani, a lawmaker from the region, told parliament on Nov. 18, "Unfortunately so far only 15 percent of the people in Varzaghan disaster area have been settled... mismanagement has meant that people in 63 villages still live in tents though the snow and cold has already arrived," according to Vatan Emrooz daily.
Still, on Nov. 19, Iran's Revolutionary Guard and voluntary Basij militia announced the completion of 772 housing units in the earthquake zone, part of 2,000 they committed to build by next month. More than 7,000 units to protect livestock from winter weather were also donated.
"The Basij and Sepah have been with the people in the disaster area from the first moments of the earthquake and will remain close by them until the end of reconstruction and their problems are over," said Guard commander Mohammad Ali Jafari.
---