Stalemate in Syria? Army short on loyalists, rebels short on guns
The regime of Bashar al-Assad appears to be favoring long-range weapons out of fear that soldiers close to the front lines will defect.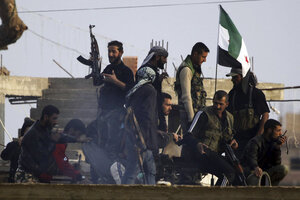 Amr Abdallah Dalsh/Reuters
A little more than a week ago, Ahmad Dahar was a member of the embattled Syrian government's state security service in Damascus. Although he was officially a guard, he says he was not allowed to carry a weapon or go on any missions because he is a Sunni Muslim while the country's core leaders are from the minority Alawite sect of Islam.
"They're afraid the Sunnis will try to kill the regime loyalists," says Mr. Dahar. "They also worry that these people will defect."
In the early days of the now 20-month conflict that has claimed more than 40,000 lives, the newly defected Dahar says non-Alawite soldiers like himself were taken on missions, but frequently defected to the opposition as soon as they escaped the gaze of their commanders. When officers caught on, they placed such soldiers under close supervision, even taking away their weapons.
After months of brutal fighting, the conflict appears stalemated in many areas, without any side making significant progress. There is mounting speculation that the Army of President Bashar al-Assad is struggling to advance because it lacks enough loyal ground troops to launch a major assault without suffering mass defections. While daily clashes continue, much of the violence now taking place in Aleppo is the result of long-range weapons, such as artillery, airplanes, tanks, and snipers that inflict damage while minimizing the risk of contact and defection.
Defectors say Army struggling
---