Kurdish-Iraqi government talks collapse amid fear of civil war
Talks between the Kurds and Iraq's central government on pulling back troops in disputed areas are collapsing. What does is mean for Prime Minister Maliki?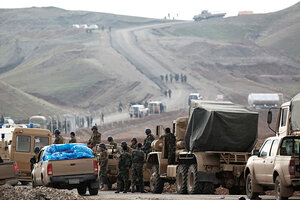 Azad Lashkari/Reuters
Talks between Kurdish and central government forces aimed at defusing military tension in northern Iraq have collapsed amid fears that bitter political divisions are again bringing the country to the brink of civil war.
The talks in Baghdad between Iraqi and Kurdish military commanders brokered by a three-star American general broke down on Thursday, two days after the prime minister announced both sides had agreed on pulling back forces in part of the disputed areas. Officials on Friday said there were no new talks scheduled.
Kurdish regional President Massoud Barzani, who has described deployment of Iraqi forces as a plot against the Kurds, accused the Iraqi prime minister of reneging on the agreement and vowed that Kurdish forces would deter Baghdad's "militarism."
The collapse of the talks and the high-profile corruption charges connected to a Russian arms deal have added fuel to efforts by Prime Minister Nouri al-Maliki's political opponents to engineer a no-confidence vote. While attacks have declined since sectarian violence tore the country apart several years ago, rampant corruption and political paralysis have made it difficult for the country to move forward.
"We believe this is a deliberate policy by Baghdad to divert attention from the government's political failures and its deepening crisis, including corruption," says Barham Salih, former Kurdish prime minister and a senior official in President Jalal Talabani's Patriotic Union of Kurdistan.
---