Rebel gains in Syria embolden Lebanese Sunnis
Sunnis in Lebanon are growing more outspoken about the most powerful faction in their country, the Shiite movement Hezbollah.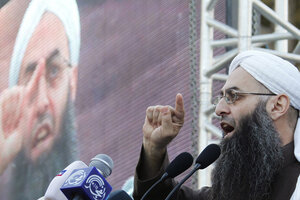 Ali Hashisho/REUTERS
Syrian President Bashar al-Assad's increasingly tenuous hold on power is emboldening Sunnis in neighboring Lebanon to escalate their opposition to Hezbollah, the powerful militant Shiite movement and ally of Mr. Assad.
Lebanon has long been overshadowed by its larger neighbor to the east but with the Assad regime struggling for survival, many Lebanese Sunnis are sensing that the balance of power in the Levant is set to swing in their favor. If Assad and his minority Alawite sect are toppled from power, the majority Sunnis are likely to rule Syria and could cut support for Lebanon's Shiite Hezbollah.
"Hezbollah wants to govern the whole country, but I can assure you that it will not happen because we have an Islamic revolution in Syria right now, and this will bring Hezbollah down," says Sheikh Zakaria al-Masri, a Sunni cleric, addressing a rally in the southern city of Sidon on Sunday attended by some 1,500 Sunni opponents of Hezbollah. Sheikh Masri was a guest speaker at the event, which was organized by Sheikh Ahmad al-Assir, a firebrand Salafist cleric from Sidon and outspoken critic of Hezbollah.
Still, Hezbollah is the most powerful political and military force in the country, stronger even than the Lebanese Army, and it has demonstrated a will in the past to resort to the use of arms domestically when it feels threatened. In May 2008, Hezbollah and its allies briefly took over Sunni neighborhoods of Beirut when the then Western-backed government attempted to shut down the party's private communications network. The move sparked a week of fighting that brought Lebanon to the brink of civil war.
---