Egypt's anti-Morsi protests spread beyond Cairo
Egypt's angry political divide is evident well outside Cairo, with protests erupting against President Mohamed Morsi in Alexandria, along the Suez Canal, and in the Nile Delta.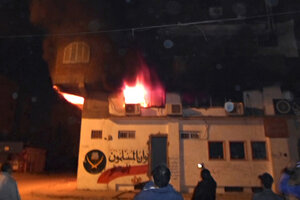 AP
Violence erupting in the capital between supporters of President Mohamed Morsi and his political opposition is being mirrored outside Cairo, revealing the extent of divisions across the country as the political crisis over a proposed new constitution continued to spiral today.
Clashes between pro- and anti-Morsi demonstrators broke out in Suez, the port city at one end of the famed canal of the same name, and in the industrial Nile Delta city of Mahalla Wednesday night. In Ismailia, near Suez, protesters stormed the Muslim Brotherhood office, the state-run Middle East News Agency reported. Similar attacks on Brotherhood offices were reported in smaller towns across the country.
In Alexandria, Muslim Brotherhood figure Sobhi Saleh was attacked by opponents of Mr. Morsi, landing the politician in an intensive care unit, the Brotherhood said on its website.
Though troops were mobilized in Cairo and other cities today after Wednesday's clashes and the situation was calmer, the simmering hostility of Egypt's political divide remains perilously close to boiling over. The day was spent waiting to see how Morsi would shape his next steps. This evening, he addressed the nation, and the response of political activists was one of fury and disappointment. Morsi spoke of the crimes of protesters and of "black money" being used to bribe them to undermine the state, but offered little in way of concessions over a draft constitution he hopes to put to a national referendum Dec. 15.
"Things will get out of control unless the president tries to break this vicious cycle and reaches out for the other camp and tries to reach a compromise," said Mazen Hassan, a political science lecturer at Cairo University, shortly before Morsi's address. "Basically what happened yesterday somehow changed the whole scene and … things can slip away very easily."
If Mr. Hassan is right, Egypt has a dangerous few days ahead of it, since Morsi's speech appeared to double down on his commitment to the draft constitution. Egyptian activists were darkly warning that the tone of his speech was straight out of the Mubarak era, and that they expected imminent arrests of political figures as his next step. There did appear to be one concession in his speech: a revocation of a decree that removed him and the constitutional committee, packed with Islamists who drafted the document, from judicial oversight, if the constitution failed to be approved.
"[Morsi] is setting us up for another dictatorship and taking control of all powers by himself without taking anyone's opinion on this constitution," says Esma El-Hagrassi, an accountant who protested Wednesday in front of the Brotherhood's Freedom and Justice Party office in Zagazig, another city in the Nile Delta. "He's just a leader of a group of people with beards."
But if the referendum is held on Dec. 15, it may well pass, leaving Egypt with a constitution rejected by a sizable proportion of the nation. Ms. Hagrassi says she is a minority in the city, where many people – as in other rural parts of Egypt – support the Muslim Brotherhood. "But recently we have been hearing people protesting against the Brotherhood in the streets," she says.
---