West Bank welcomes Hamas back with excitement - and apprehension
Still riding a wave of popularity after the Gaza war, Hamas held celebratory rallies throughout the West Bank. But worries about a return to the chaos and violence of the intifada are bubbling up.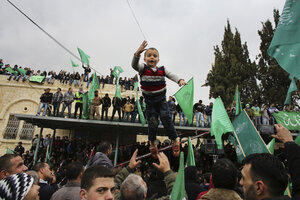 Ammar Awad/REUTERS
Hamas, long suppressed in the West Bank because of its feud with Palestinian President Mahmoud Abbas, staged comeback parties in several cities here over the last two days in celebration of its 25th anniversary and victory in last month's Gaza war.
For the first time in five years, thousands of Hamas supporters flooded central Nablus yesterday, waving green Islamist banners and miniature rockets symbolizing those fired from Gaza at Israeli cities, giving voice to fiery rhetoric not heard in this town since the second intifada of the early 2000s.
"We will pledge to purify our people from all Zionist rhetoric," shouted a speaker in Nablus yesterday. "Your objective: resistance. Your leaders: Hamas. Your wish: to die in the name of God… Create a volcano among the Israelis."
Yesterday's demonstration, together with similar celebrations sanctioned by Mr. Abbas' government planned for today in Ramallah and Hebron, signal just how much Hamas's stature in the region has grown since the war, which lifted Palestinian morale and even spurred new hopes for a political reconciliation between long feuding Fatah and Hamas. Such rallies would have previously been shut down by Palestinian security forces.
---