Pressure mounts on Obama to change tactics on Iran
In a letter to the White House, Iran experts insisted diplomacy, not further sanctions, will have the best results. But US actions since then indicate more sticks than carrots.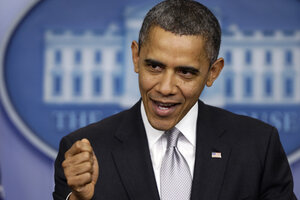 Charles Dharapak/AP
Arguing that further sanctions "are unlikely to stop Iran's nuclear pursuits," a group of Iran experts and senior former officials are calling on the White House to pursue realistic, "serious, sustained negotiations" with Tehran that they say are the best chance to prevent a nuclear-armed Iran.
The letter to President Obama, from 24 signatories whose professional careers have often been marked by dealing firsthand with the thorny Iran issue, suggests that a diplomatic deal can ease the West's greatest fears about Iran's nuclear program – but only if Washington revises its position in nuclear talks that are expected to resume within weeks.
"A diplomacy-centric approach is the only option that can prevent an Iranian nuclear weapon and a war," write the 24 signatories in the Dec. 6 letter only now made public. Success will require "reciprocal" steps and an "appropriate and proportional paring back of international sanctions on Iran," they write.
The letter proposes a deal that Tehran has signaled repeatedly in the past year it is willing to accept, given the right circumstances: stopping production of 20 percent enriched uranium, which is a few technical steps away from bomb-grade; and allowing a more intrusive inspections regime. In exchange, Tehran wants recognition of its right to enrich for peaceful purposes and a lifting of sanctions.
But the appeal to Mr. Obama comes as Congress prepares to enact further sanctions against Iran in coming days. And news reports indicate that the United States has already decided not to fundamentally change a negotiating stance, rejected by Iran in previous rounds of talks this year, which demands Iran make concessions before the US entertains any prospect of sanctions relief.
---