Amid bloodshed and chaos, Syrian wages a war for neutral reporting
Rami Jarrah, a Syrian anti-regime activist now living in Cairo, is launching Syria's first non-state-run news outlet to provide something he sees as sorely missing: objective reporting.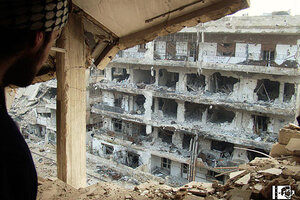 Lens Yong Homsi/AP
While Syria's state-run news outlets run a steady stream of reports about "terrorists" and international conspiracies against President Bashar al-Assad, opposition activists roll out their own endless barrage of footage highlighting atrocities and destruction by regime forces, with little in the way of context.
With media access difficult or impossible in most of the country and no tradition of balanced journalism, reliable, objective coverage of Syria is scarce. Cairo-based Syrian activist and media entrepreneur Rami Jarrah, on the cusp of launching a radio station inside Syria, is trying to fix that – but he is starting from scratch. By providing Syrians with rational, fair reporting, he hopes to help them avoid the worst of the uncertainty in the aftermath of this conflict – now in its 22nd month – when it ends.
"When someone comes in and wants to work with us, and wants to do it to help Syria, you have to convince them that the way you do that is by being neutral," says Mr. Jarrah during an interview at the Cairo headquarters of New Media Association (ANA), which he co-directs.
One of the major problems with Syrian troops, he insists, is not that most of them are "criminals," but that they simply "don't know what's going on" – and the same could be said of many of those in the extreme opposition.
Meanwhile, the international community is foundering amid attempts to understand what is happening on the ground. Because reporters have an easier time accessing opposition sources and visiting opposition-controlled areas, international coverage of Syria has been skewed, Jarrah argues.
"You aren't seeing any media coverage of Damascus and Latakia," where the government is still strong, both because reporters are not granted access and because "those who support Assad think they should not speak to journalists, that the media is trying to weaken the country," he says.
---