In Egypt, journey down a Nile of discontent
Voices from the 'other Egypt' show why the country is so riven – and what its next leaders face.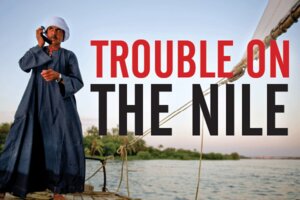 Ann Hermes/The Christian Science Monitor
Essam Elya almost doesn't agree to meet. He calls in the evening, waffling, scared. Then he makes a spontaneous decision – we can meet later, at 10 p.m., at a local church. That is the only place he feels safe.
We sit in a small, dim room off the main hall. Mr. Elya's hands are trembling. As he tells his story, he stares at a spot on the wall, speaking haltingly, as if long sentences are too much effort. Elya is a young pediatrician in Naga Hammadi, a community of farmers and aluminum-plant workers in southern Egypt along the Nile River. As he drove home from his clinic one night in April, masked men stopped his car, grabbed him at gunpoint, and beat him unconscious.
They threw him in the middle of a sugar cane field, where he was hidden from the outside world by the head-high stalks and sharp-edged leaves. For five days, he says, his captors left him bound and blindfolded in the field, without food. The men – he never saw their faces – called his father to deliver the ransom demand. They beat Elya during the call, to encourage his father to act quickly.
"They threatened me with many things," says Elya. "A lot of difficult things, difficult for you to imagine."
At first, the kidnappers demanded £1.6 million (Egyptian, US$228,000). But they had miscalculated – Elya's family wasn't rich. His father scrambled to buy Elya's freedom. He sold his apartment and Elya's. He pulled his other children out of private universities. He borrowed money from friends.
When it was all over, Elya's father had paid £150,000 to the kidnappers – and another £250,000 to people who either claimed to be the abductors or promised help. Neither the local police nor federal authorities aided the family at all.
"The government didn't do anything for me," he says. "It didn't help me. But this is what happens – this is Egypt."
---