Baghdad cracks down on protests as Iraq democracy falters
Over the weekend, Iraq's government banned protests against the lavish pensions given to lawmakers, in the latest evidence that Iraqi democracy has struggled to take root.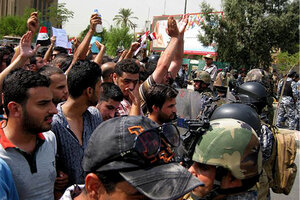 Hadi Mizban/AP
Many Iraqis are worried that democracy, never firmly rooted here, is sliding away from their country. On Saturday, Iraq's security forces stopped demonstrators from protesting against the parliament's pension program, which activists say is excessive. In Baghdad, police closed off several main roads and bridges to stop protesters from reaching designated gathering places.
Despite the prohibition, hundreds of demonstrators took to the streets in several cities where protest leaders say police beat and arrested some participants. Iraqi officials said they forbade the protests because a large gathering would have been susceptible to a terrorist attack.
"We were expecting big support from the government, because we saw the government on the media in favor of pension reforms, but instead, they beat some of our friends and arrested them. It's shocking," says Akeel Ahmad, a protester who could not reach the demonstration due to police checkpoints.
The ban on Saturday's protests is the latest evidence of growing authoritarianism in Iraq. Sectarian politics appears to be on the rise once more, and the government has become increasingly intolerant of dissent. The failure of democracy here would cast an even darker shadow over the nearly nine-year US military presence, which was sold as an effort to build a democratic country.
"The democratic system is in danger and it's in a state of continuous deterioration," says Jaber al-Jaberi, a member of parliament who supports reform of the pension program. "Protesting is a constitutional right for everyone and it doesn't require any permits from anyone."
---